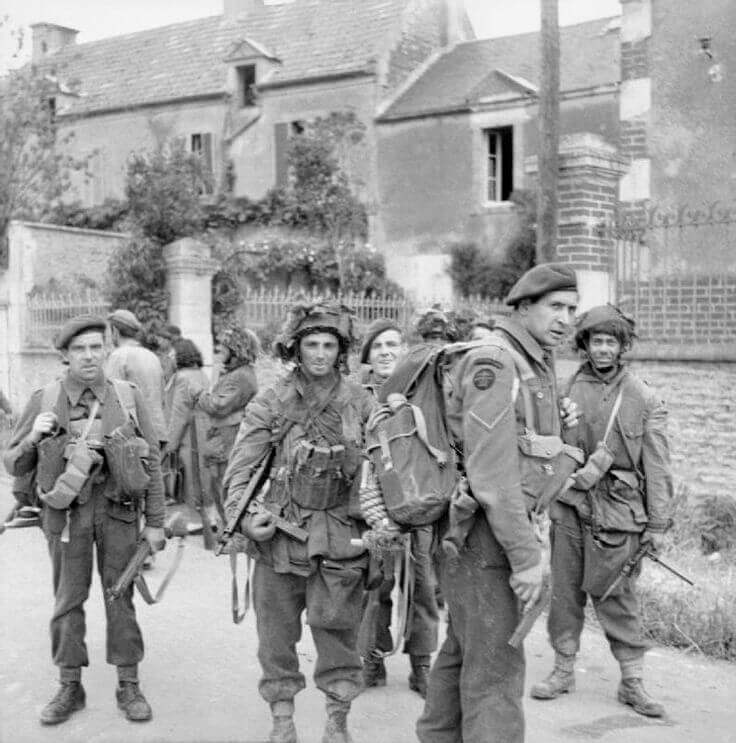 Posted on
---
At 7.30am on D-Day, 177 men from Commando Kieffer landed on Sword Beach at Hermanville-sur-Mer.
Troops landing on Sword Beach, D-Day 1944
Their target was to capture the German stronghold at the former Ouistreham Casino.  German troops had levelled this building and created a concrete fortress of bunkers and pillboxes.  And their heavy artillery had the troops landing on the beaches pinned down under constant fire.
After a ferocious battle they successfully destroyed the blockhouse at Riva Bella. Enlisting the aid of a Sherman tank from the 13/18 Hussars. 
They then moved forward to Benouville Bridge and met up with the 6th Airborne troops of General Gale.


Riva Bella Casino before being destroyed by Rommel's troops


By evening of that first day, 21 of Kieffer's men were dead and 93 badly wounded, including Kieffer. 
But within weeks most of the wounded were back in action, and the unit continued fighting in the Normandy Campaign.

Commando Kieffer was the idea of Philippe Kieffer, a former banker.  After seeing British Commandos in action in 1942, he persuaded the Brits to let him form an elite French commando unit - Fusiliers-Marins Commandos - to fight alongside them during the Normandy Invasion.




In Spring 1944, they joined up with No. 4 Commando, part of Brigadier Lord Lovat's 1st Special Brigade forces and in a secluded training camp at Achnacarry in the north of Scotland, they prepared for D-Day.  




Kieffer and his unit were decorated many times, and he was one of the first Free French Forces to liberate Paris. Tragically, his 18-year-old son, who fought with the Maquis, was killed by retreating German troops near Paris, around that time.

Today the modern Commando Kieffer is known as the Commandos Marine and operate as a Special Ops and Counter-terrorism unit of the French Navy.




Commandant Philippe Kieffer is buried in the Grandcamp-Maisy cemetery in Normandy.  And below is the WW2 Memorial at Sword Beach, to Commando Kieffer and Brigadier Lord Lovat's troops.
About
Contact us
281 Young Harris St
Blairsville, GA 30512, USA
support@themilitaryplace.com