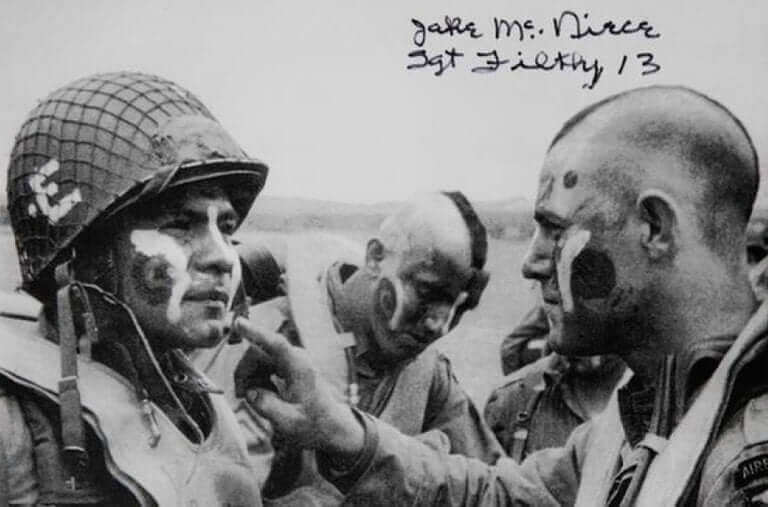 Posted on
---
Under cover of darkness, a few hours before the D-Day invasion started, a U.S. vanguard unit dropped into Normandy. These men were a special saboteur group, known as "The Filthy Thirteen" and their mission was to blow up bridges across the Douve River.


This shallow river, 49 miles in length, starts in the Contentin peninsula of north west France, near Cherbourg and travels south east to Carentan.


Aerial photograph of a zone on the Cotentin Peninsula south of Sainte-Mère-Église, France, prior to the airborne assault on D-Day, June 6, 1944.                                         
A SUICIDE MISSION
The small group of hard-fighting paratroopers who called themselves the Filthy Thirteen, were the Demolition unit of the 506th Parachute Infantry Regiment, 101st Airborne.

They landed behind German lines, on what many regarded as a suicide mission.

Although outnumbered by German troops, and suffering heavy casualties, the Filthy Thirteen destroyed two bridges and secured a third.  And cut off from communication with U.S. lines, they fought bravely, continually holding off enemy troops near the small Normandy village of Brevands for a further 5 days.

They never gave up.

By destroying access across the river, they disrupted German supply lines and delayed reinforcements reaching the German troops dug into the coast.  And their actions contributed in a big way to the Allies successfully taking the first major French city – Carentan – from the Germans.

But only a few of the Filthy Thirteen got through this mission. Six returned to England with the remainder killed or captured.

JAKE "MCNASTY" MCNEICE
The last surviving member, who later became the unofficial "historian" for the group, was Sgt. Jake McNeice, a part-Choctaw American from Oklahoma. He volunteered as an Army paratrooper in 1942 and was considered the toughest in the squad, and the one who gave the Filthy Thirteen its character.

Sgt. Jake McNeice of the WW2 Filthy Thirteen unit
                           
McNeice made four combat jumps into Normandy and immediately after D-Day, spent 30 days behind enemy lines. He and the rest of the squad later took part in several battles across northern France and Holland.

The Filthy Thirteen earned a notorious reputation for questionable behavior, hard-drinking and breaking rules, but senior command looked the other way.  These men got the job done.  With their bravery and combat skills, they successfully completed every mission given to them.

WHO ARE THESE GUYS?
In the hours leading up to D-Day, a Stars and Stripes newspaper photo-journalist took a picture of an odd group of paratroopers putting war paint on their faces. With their heads shaved into Mohawks. They were an unknown unit.
                           
Chuck Plauda and Clarence Ware of the Filthy Thirteen putting war paint on before their D-Day mission
                           
But after their pre-dawn mission on D-Day, their actions became legendary.

THE MEN OF THE FILTHY THIRTEEN
The original Filthy Thirteen included: Lt. Charles Mellen, Sgt. Jake McNiece, Jack Womer, John Agnew,  Joseph Oleskiewicz, John Hale, James Green, George Radeka, Clarence Ware, Robert Cone, Roland Baribeau, James Leach and Andrew Rassmussen. With Frank Palys, Tommy Lonergan and Charles Plaudo also part of this squad.         
 
Tommy Lonergan of the WW2 Filthy Thirteen  
                                       
During WW2, over 30 men would be members of this unique group. And the survivors remained as a unit until Germany was defeated and WW2 ended.

Sgt. Jake McNeice died in 2013, aged 93
                                                  
Veterans Jack Agnew and Jake McNeice of the WW2 Filthy Thirteen squad (Photo Credit: Courtesy Photo / Megan Locke Simpson)
                           
WANT TO KNOW MORE?
If you want to know more, this paperback by Richard Killblane and Jake McNeice is a great read.  The Filthy Thirteen: From the Dustbowl to Hitler's Eagle's Nest – The True Story of the 101st Airborne's Most Legendary Squad of Combat Paratroopers.
You get the insider account on the exploits of the Filthy Thirteen, in McNeice's words.
             
                         
Patch of the 101st Airborne

                        
Patch of the 506th Parachute Infantry Regiment
Credits:nytimes.com  https://carentanlesmarais.fr  https://www.army.mil/article/129442  https://www.history.com  pinterest.com/WW2/History  starsandstripes.com  Keele University Air Archives  The 101st Airborne at Normandy, Mark Bando  thelandlessgentry.com
About
Contact us
281 Young Harris St
Blairsville, GA 30512, USA
support@themilitaryplace.com