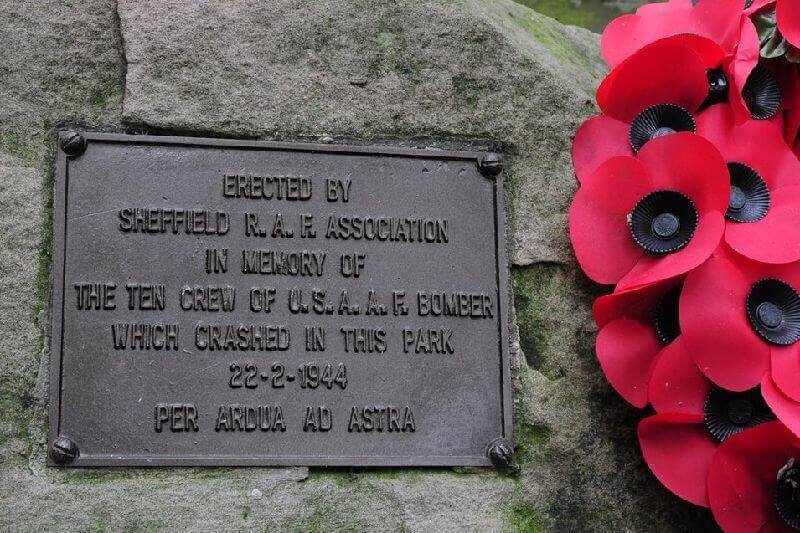 Posted on
---
On February 22nd, 1944, eight-year-old Tony Foulds was playing football with friends in Endcliffe Park, Sheffield when they heard a plane approaching low.

Unknown to the boys, it was an American B-17 Flying Fortress and she desperately needed somewhere to land.  She had been badly damaged by German Me190 fighters, while returning from a mission in Denmark.

The crew spotted the wide-open area of Endcliffe Park. But as they approached for an emergency landing, realized there were children scattered across the field.

Tony Foulds, now an 83-year-old pensioner,  recalls the plane circling very low over them, with crew waving at them.  The boys waved back.

They didn't know the plane was struggling to stay in the air and needed to land.

And didn't appreciate until later that the crew had been frantically waving to them to get out of the way.
                      
Image credit: SWNS
Foulds and his friends watched as the B-17 struggled to gain height, trying to clear nearby trees.

But it crashed, killing all ten crew members.

THE RAID IN DENMARK

The B-17, known as Mi Amigo, had been on its 15th mission.

It was a raid on a German-held airfield in Aalborg, Denmark and was a diversionary tactic to distract Luftwaffe forces from the main Allied attack on industrial targets in Germany.

The joint bombing raid by the 305th Bomb Group and the 92nd Bomb Group had been a bad day all round.

When the bombers reached the Danish coast, it was shrouded with heavy cloud.

After circling twice, they were told to abort their mission and return to base – just as Luftwaffe fighters attacked.  In the aerial battle that followed, Mi Amigo was badly damaged with an engine destroyed and three crew critically injured. The B-17 turned to limp home.

She made it across the North Sea, requesting an emergency landing at a small airfield in Yorkshire.

But as she emerged from clouds over the Sheffield area, pilot Lt. John Kriegshauser knew he wasn't going to make it and had to get her on the ground fast.

That's when they saw Endcliffe Park.

THE B-17 CRASH SITE MEMORIAL

For several decades, Tony Foulds, now retired, has looked after the B-17 Crash Memorial to the ten crew.

He plants and tends flowers and sweeps the area clean regularly.  He's well-known to locals and visitors.

Image credit: PA – Tony Foulds at B17 Mi Amigo Memorial
                      
He's often said to family and friends that after all these years he still feels guilty about the crashed plane.  And believes the damaged bomber could have landed safely in the park – if he and his friends hadn't been playing there.

During a chance meeting in the park with BBC Breakfast presenter Dan Walker, Foulds mentioned his wish for a flyby to honor the ten airmen.

Having listened to this amazing story, and unknown to the pensioner, Dan Walker took up the challenge and started a campaign to get a flyby.

It worked.

TONY'S FLYBY FOR B-17 MI AMIGO

On Friday 22nd February 2019, Tony Foulds got his wish.
                          
Image credit: Glen Minikin – RAF 41 Squadron Typhoons

                           
At 8.45 am a joint flyby took place involving aircraft from the RAF and USAFE.
                          
Image credit: Glen Minikin – KC-135 Stratotanker and CV-22 Osprey
                                     
Aircraft from three UK bases took part: RAF Coningsby, RAF Mildenhall and RAF Lakenheath.
                          
Image credit: Glen Minikin – Battle of Britain Memorial Flight Dakota
                             
Aircraft taking part included:
Four F-15E Strike Eagles – USAFE 48th Fighter Wing
KC-135 Stratotanker – USAFE's 100th Air Refueling Wing
MC-130J Commando II – USAFE 352nd Special Operations Wing
CV-22 Osprey – USAFE 352nd Special Operations Wing
Two Typhoons – RAF 41 squadron
Dakota ZA947 – Battle of Britain Memorial Flight

On the journey back to base, the four F-15E Strike Eagles flew over the Cambridge American Cemetery, the final resting place for three of the Mi Amigo crew.
                        
Image credit: Glen Minikin – F-15E Strike Eagles 
                   
And in addition to the aircraft taking part in this poignant flyby, hundreds of people turned up at the park just as dawn broke, to join Tony Foulds in honoring the crew of Mi Amigo.

Many of them were wearing WW2 uniforms in tribute.
                   
Image credit: American Air Museum in Britain
                         
B17 Flying Fortress Mi Amigo Crew -
Pilot - First Lieutenant John Glennon Krieghauser
Co-Pilot - Second Lieutenant Lyle J Curtis
Navigator - Second Lieutenant John W Humphrey
Bombardier - Second Lieutenant Melchor Hernandez
Radio operator - Staff Sergeant Robert E Mayfield
Engineer / Top turret gunner - Staff Sergeant Harry W Estabrooks
Ball-turret gunner - Sergeant Charles H Tuttle
Tail gunner - Sergeant Maurice O Robbins
Right waist gunner - Sergeant Vito R Ambrosio
Left waist gunner - Muster Sergeant George U Williams
  
                        
Image credit: W M Dewsbury – B17 Mi Amigo Air Crew Memorial Plaque

              
                            
Credits:
Img: (c) Glen Minikin – Hercules and Osprey, Dakota, F-15 Strike Eagles, Typhoons
Img: (c) W M Dewsbury 28 July2013 – bronze plaque
Img: (c) PA – Tony Foulds
https://www.bbc.com/news/av/uk-england-south-yorkshire-46762440/sheffield-man-s-pride-tending-to-plane-crash-memorial
BBC News – Flyby for WW2 US bomber crash crew https://www.bbc.com/news/video_and_audio/must_see/47337174/flyby-for-ww2-us-bomber-crash-crew
       
About
Contact us
345 Young Harris St
#2351
Blairsville, GA 30512-9998, USA
support@themilitaryplace.com