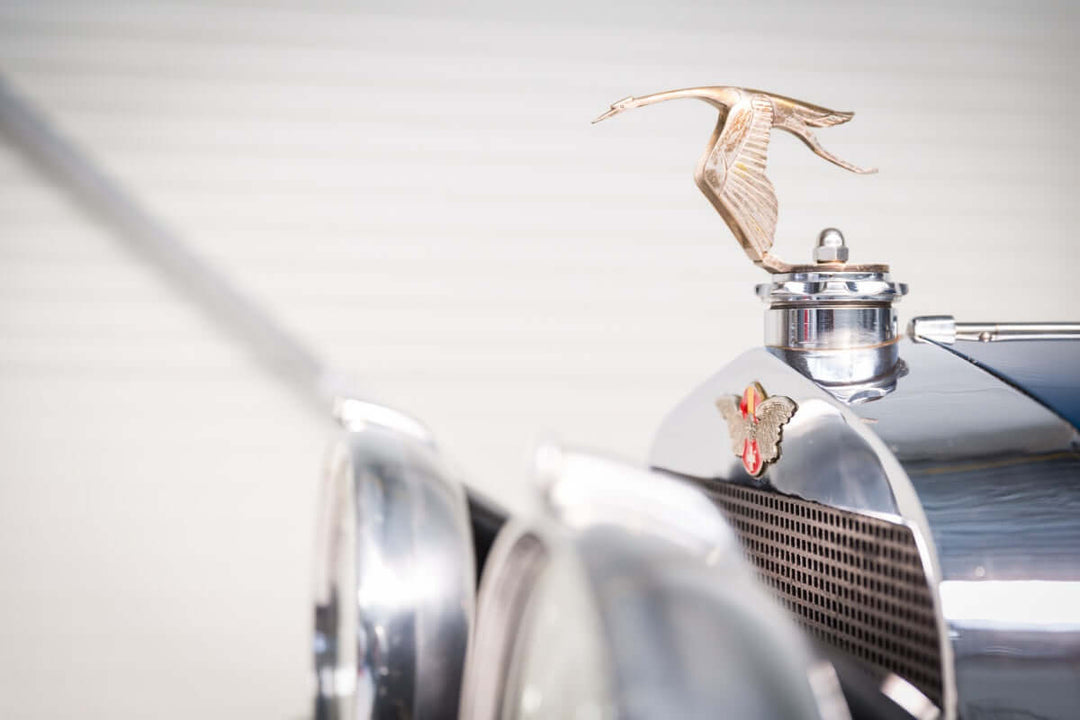 Posted on
---
Many vintage cars have beautiful ornaments on the hood, and this elegant emblem on the radiator cap of a 1933 Hispano-Suiza car has an intriguing story behind it.
This was a Spanish-Swiss luxury car manufacturer, formed in June 1904 by Francisco Seix and D. Damián Mateu. Although originally based in Barcelona, in 1911 they built another factory on the outskirts of Paris. This location helped them source larger quantities of raw materials, and labor for their production line.
In 1913, with the help of their Swiss engineer Marc Birkigt, the company explored the possibility of expanding into truck and aircraft engine manufacture.
And at the start of WWI, they stopped car production and focused on helping the war effort by designing and producing aircraft engines. These were based on their successful car engine design and built from a single block of aluminum.
At this time, France was leading the world in the design of early aircraft and in February 1915, Hispano-Suiza presented their liquid-cooled V8 engine to the French War Ministry.
After exhaustive testing by the French government, the new engine was approved and fitted to their SPAD VII and XIII fighter planes. The British also bought the engine for their Sopwith Dolphin and S.E.5a Scout biplanes.
The French Air Service replaced the Nieuport 17 with the SPAD. And the Escadrille N3 'Les Cigognes' equipped their pilots with this faster, more agile aircraft. 
Their insignia was the flying stork and it was painted on the fuselage of their aircraft.
This squadron was also home to the top-scoring French ace George Guynemer.
During the Great War, Hispano-Suiza built over 50,000 aircraft engines, but when war ended in 1918, they returned to car production.
Sadly Guynemer didn't see the war end as he was killed during combat over Poelcapelle in Belgium, in September 1917.
Hispano-Suiza's chief engineer Marc Birkigt had been a close friend of Guynemer, and at his suggestion, the company adopted the flying stork in honor of Guynemer's outstanding air combat record.
The legendary French sculptor François Bazin, who had also been in the French Air Service during WW1, was chosen to design the ornament. And every vehicle that rolled off the production line, had the classic Art Deco stork proudly leading the way on the nose of the car.
About
Contact us
281 Young Harris St
Blairsville, GA 30512, USA
support@themilitaryplace.com